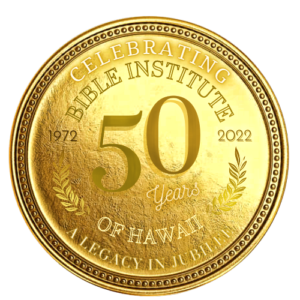 "Celebrating a legacy in Jubilee!"
Saturday, November 5, 2022, 10:30 am – 1:30 pm
Ala Moana Hotel, Hibiscus Ballroom
Ticket/Registration Available in JUNE
Table Sponsorships Available NOW
BECOME A TABLE SPONSORSHIPS & EVENT DONORS
You can help now by becoming (or finding) "Table Sponsors" for this BIH event. Individuals and businesses may sponsor a whole table (a Table Sponsor) or contribute towards a table as an "Event Donor" with an undesignated dollar amount of any size. A Table Sponsor donates the amount for the seating of ten people. They will be given the option to be a Table Host and fill their table with co-workers, fellow church members, etc. This is a great opportunity to introduce your church and others to the ministry of BIH, while celebrating the occasion. Pledge or sponsor a table now, your list of guest will not be due until closer to the event date.
"Undesignated" Dollar Amount donations are gifts of any size under $650.00. All "undesignated" dollar amounts will be combined and used towards seats as well. These will be "undesignated" seats to be used for need-based scholarships or to offset the full price per seat. All gifts through this sponsorship program are tax-deductible.
Mail-in Direction: Checks Payable to "BIH" and include in the memo "BIH50." Include the info below (basically, Your name and/or Business, email. phone, and the amount of sponsorship) or email that info to us instead. Mailing Address: The Bible Institute of Hawaii; 2345 Nu'uanu Ave. Honolulu, HI 96817. Email to 50@biblehawaii.org your info or inquiries.
Ticket Registration for the 50-Year Anniversary Celebration begins this SUMMER! Look for our next Newsletter, published and posted in June. The official ticket price will be announced at that time. 
Email bih50@biblehawaii.org for inquiries.