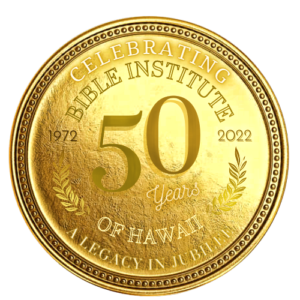 BIH 50-Year Anniversary
"Celebrating a legacy in Jubilee!"
Saturday, November 5, 2022, 10:30 am – 1:30 pm
Ala Moana Hotel, Hibiscus Ballroom
NOW OPEN Seat/Registration
INDIVIDUALS AND BUSINESSES
CAN SUPPORT THIS CELEBRATION
Please consult your CPA, if donating as a Business for deductions. The Bible Institute of Hawaii is an exempt organization as described in Section 501(c)(3) of the Internal Revenue Code
SPONSOR A TABLE
Only the portion of the payment made towards "Table Sponsorships" that exceeds the fair market value of the goods and services received is tax-deductible.
BECOME AN EVENT DONOR
"Event Donor" gifts are used for ticket scholarships and additional event costs, thus being tax-deductible in the full amount.
If by mail: Write checks payable to "BIH" include in memo "BIH50." If NOT included on your check, also provide your email and phone number. Include a separate note to itemize a list of any combined amounts (a breakdown of Tickets, Sponsor, Donor). Mailing Address: The Bible Institute of Hawaii; 2345 Nu'uanu Ave. Honolulu, HI 96817. Email 50@biblehawaii.org for inquiries.